Perils of an Urban Campus: Advocating for a Green Infrastructure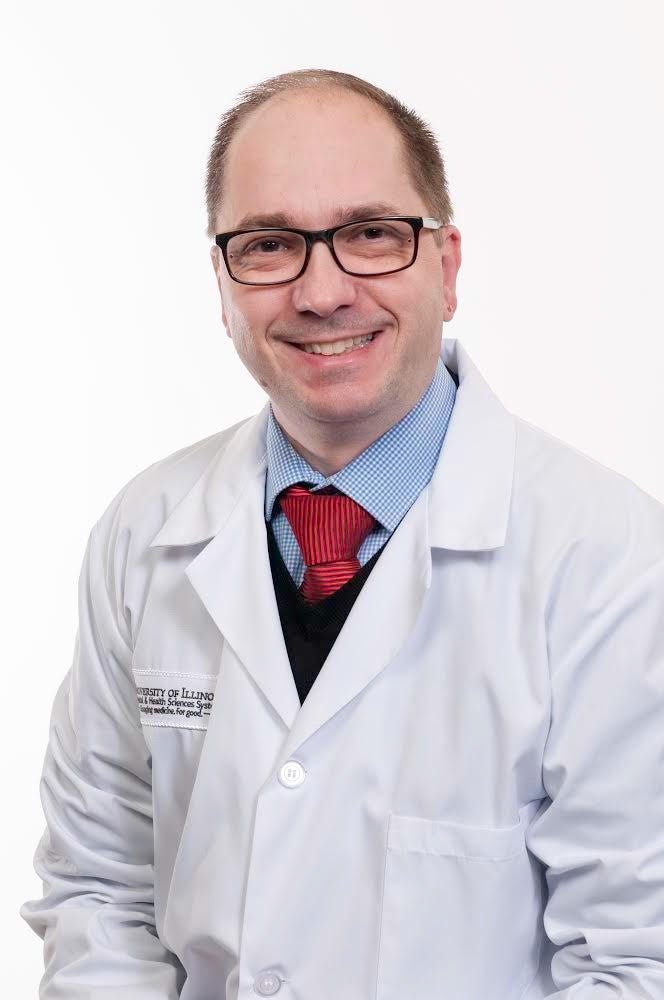 One notable feature of the University of Illinois at Chicago (UIC) is its location. Right at the center of buzzing urban life, students are drawn to the numerous museums, restaurants, and neighborhoods for cultural growth and exploration. However, with urban campuses come the many adjacent highways and increased prevalence of public transportation, increasing traffic-related air pollution and solar heat gain from the additional long stretches of concrete. It is no exaggeration to say our campus is especially vulnerable to climate change, and actions should be taken now to ensure the health and safety of UIC's students and faculty.
Dr. Robert Sargis, Assistant Professor of Clinical Medicine in the Division of Endocrinology, Diabetes, and Metabolism at UIC, is passionate about how we can implement changes to our campus to meet such demands. He is a strong advocate for green infrastructure. "With over 240 acres of land, UIC has tremendous potential to deploy green infrastructure to improve both campus and community resilience," Dr. Sargis says. Moreover, he explains that naturalized areas promote mental and physical health, aiding students with their learning — a critical investment for an academic institution. Green infrastructure will also help the institution financially, as passive cooling from trees will reduce air conditioning costs and separate stormwater to prevent flooding.
When asked how such green infrastructure could be implemented, Dr. Sargis highlights the importance of a shared effort towards this cause. "We have control over this issue – there is lots of knowledge on campus on environmental pollution, but how do we bring those people together?" With the wealth of resources and knowledge available on the UIC campus, it is not difficult to find students and faculty from different fields of study passionate about this particular topic. Furthermore, a potential next step is to partner with companies downtown. There are many companies that can invest in green infrastructure on our campus as a means to defray their carbon footprint. Selling carbon credits to such companies allows them to omit one metric ton of greenhouse gases with each credit they purchase. With its advantageous location at the heart of the city, UIC has the opportunity to not only forge partnerships with local companies to create a greener campus, but also with climate change organizations around the city and student-led initiatives in neighboring high schools and colleges.
Dr. Sargis advises that students should take an active role and  engage in climate strikes, learning about the importance of saving our world before it is too late. "The youth are going to be the ones to affect change," he says. He also advises students to engage in more ways to address climate change on campus so others can be equally knowledgeable about the topic. Students can be more engaged in administration, urging for a greener, and one day even carbon neutral, campus. Moreover, Dr. Sargis mentions the effect green infrastructure can have on nearby disadvantaged communities. The prevalence of green infrastructure on campus would also improve air quality and temperature in these communities, helping to address health disparities and building their resilience to climate change. Dr. Sargis believes that students should realize that the education they receive at UIC can be the very tools for recognizing and changing nearby disadvantaged communities — "students should be advocates for these communities," he emphasizes.
Given UIC's wealth of resources and brilliant minds, there is no doubt change can happen. However  there is still much to be done to transform our urban campus into a long-lasting naturalized campus, but we need to start somewhere. After all, the price and risks of inaction are far greater than that of steady action.
Modified on January 12, 2020