From Chicago to Maastricht: Honors College Alumna Discusses Fulbright Experience
By Isra Hasnain
Junior
Biological Sciences
From Chicago to Maastricht: Honors College Alumna Discusses Fulbright Experience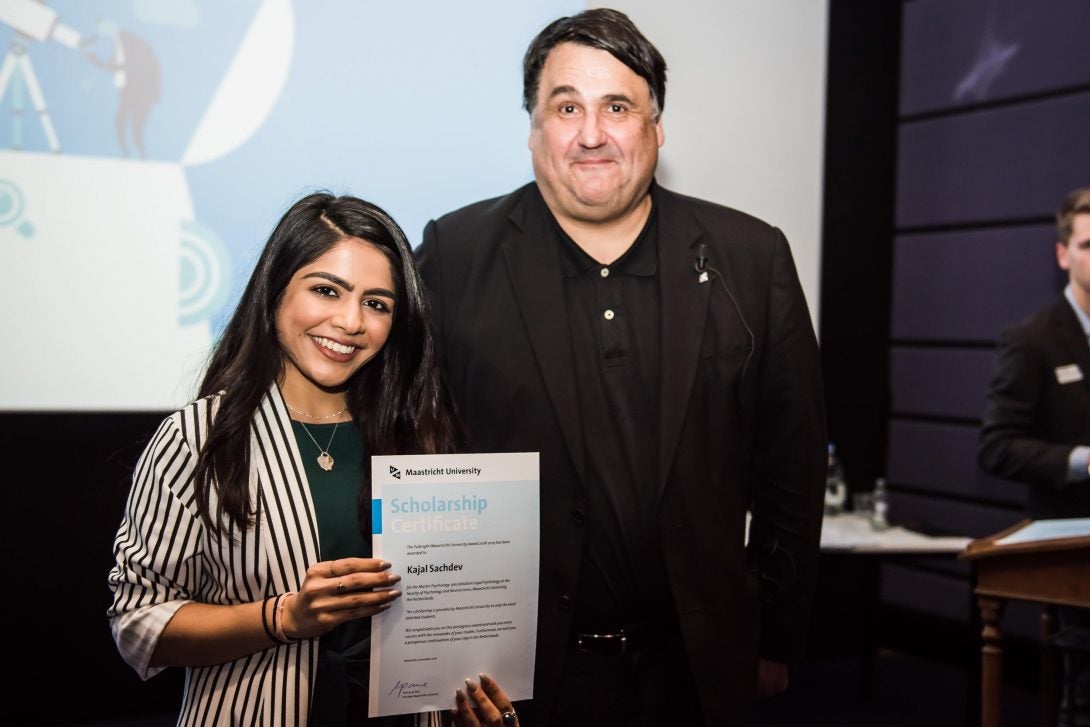 Most students are familiar with the opportunity to study abroad, but seldom do these opportunities include funding. Kajal Sachdev, an Honors College alumna from the Class of 2018, was able to enjoy the benefits of a generously sponsored experience after being awarded the prestigious Fulbright U.S. Student Award. Sachdev is currently pursuing a one-year master's degree in Legal Psychology at Maastricht University in the Netherlands as part of the Fulbright U.S. Student Program. The Fulbright program offers fellowships to U.S. graduating college seniors and graduate students to study, conduct research, or teach English abroad. The program's mission is built upon fostering positive multicultural exchange and building worthwhile international partnerships. The award is competitive, offering approximately 2,000 grants annually in all fields of study and operating in more than 140 countries worldwide. Students may only apply for post-graduate study in one country, encouraging prospective applicants to think strategically about where to cast their application.
For Sachdev, her fields of interest in psychology and law aligned almost cosmically with one particular institution and one country in general. Maastricht University, located in the Netherlands, is one of few institutions in the world with a comprehensive one-year master's program in Legal Psychology. Sachdev's decision to pursue this degree specifically stemmed from previous exposure to the field in her undergraduate studies. For nearly two years, Sachdev conducted research related to jury decision-making in child sexual abuse cases under Dr. Bette Bottoms, Dean Emerita of the Honors College, within UIC's Department of Psychology. "I learned that there were so many other areas of psychology and law that I knew nothing about," Sachdev says, "and I wanted to try to combine my interests in this field to my other passion that is medicine."
While taking classes and conducting research full-time in her program, Sachdev also takes time away from studying to enjoy her time in a new country. Among her favorite activities includes traveling – the Netherlands is notably in a geographic hotspot with neighboring countries very accessible by public transportation. So far, she's visited France, Italy, Spain, and Denmark, and has more plans for travel in the upcoming months. She dances at a studio in Maastricht and takes hip-hop classes every week. A coffee lover, Sachdev takes advantage of her new environment to find new coffee shops around the city as well. However, she notes that you won't find her accessing these areas by way of one particular European mode of transportation – "I hate biking. The only downside to living in the Netherlands is that…everyone uses bikes and I hate it. I have learned way more about changing tires and air pressure than I care to know."
Along with exploring the city around her, Sachdev is committed to contributing to her community outside of her program. She is involved in Universities Allied for Essential Medicines, a student-led organization that works to improve affordability and access to medicines around the world and to augment research of drugs for overlooked tropical diseases. This group has helped Sachdev stay in touch with her passion for the medical field while also informing her about European healthcare and policy.
Sachdev credits a large portion of the opportunity to embark on all of these adventures and experiences to UIC and the Honors College. "I have to thank my Honors College Capstone supervisor, Dr. Bottoms, for not only sparking my interest in Legal Psychology but also for helping me with everything related to my application," she says. "I also think my Honors College and liberal arts education helped provide me with a different perspective and experiences than most of my classmates."
Sachdev advises those who are considering an application for a Fulbright award to plan ahead and have patience. Among others, Fulbright applicants must consider factors such as country of study and the type of award sought, which include research, open study, or English teaching assistant awards. Sachdev began to craft her application in the summer of 2017 despite the fact that the final application was due in October. This early start also allowed her to arrange beneficial partnerships between herself and her host university. "With the help of Dr. Bottoms, I made a connection with a professor in my program via email. This allowed me to work with him to propose a concrete research plan that I could write about in my essays," she explains.
After submitting her application, the waiting game began. In April, nearly six months after submitting her application, Sachdev received notification of her award status. Despite the startlingly long wait, Sachdev says it was absolutely worth it: "[The application process] was discouraging and stressful at times…but Fulbright has changed my life, and I really would go through all the stress and anxiety of waiting in order to do it again."
Upon completion of her Fulbright year, Sachdev plans to return to Chicago to begin medical school at the UIC College of Medicine. She will also be continuing research at Lurie Children's Hospital. Although she hesitates to consider living abroad permanently due to the distance between herself and family, Sachdev would like to return once more to Europe in order to study or work again in the future.
Please contact UIC's Office of External Fellowships to learn more about the Fulbright award as well as other fellowship opportunities.