YES APPLY ILLINOIS!: Fighting for a Fair Chance
By Vidya Babu
Freshman
Undeclared
YES APPLY ILLINOIS!: Fighting for a Fair Chance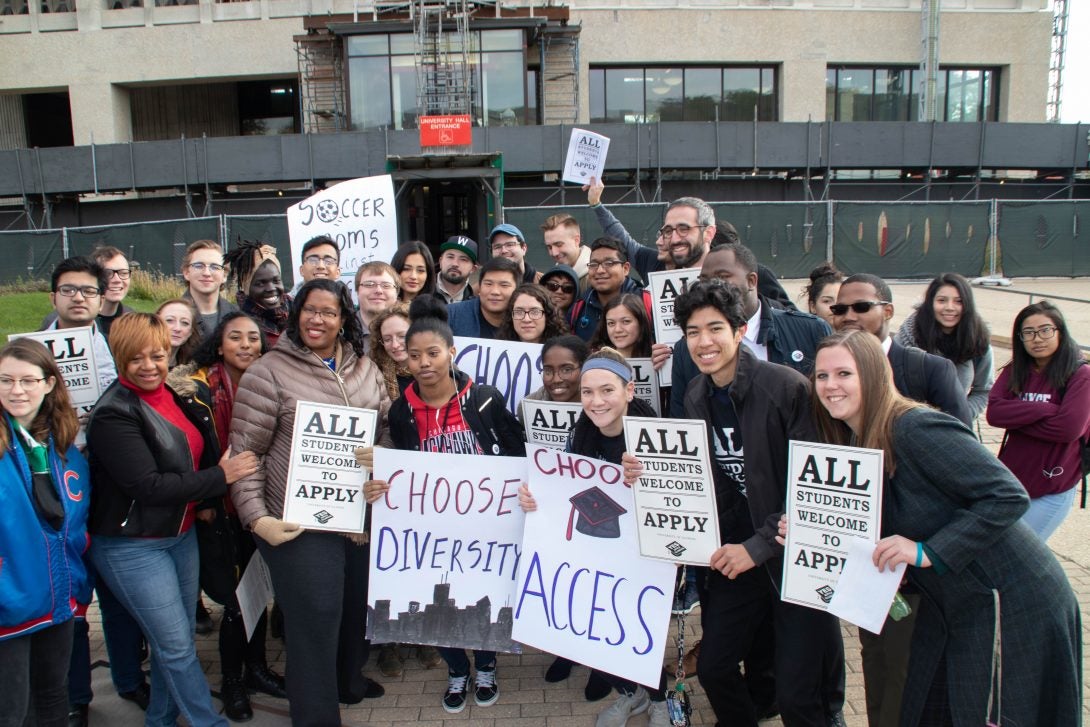 A fair chance at a quality education. This is the ultimate goal of YES APPLY ILLINOIS!, a student-led coalition at the University of Illinois at Chicago (UIC) that is advocating against disciplinary and conviction history questions on the University of Illinois' undergraduate application. Although the Common Application (an application platform that gives students access to over 700 undergraduate universities) and UIC's graduate school removed questions about past convictions, these questions remain on the undergraduate supplemental application on the Common Application and likely deter some of the 47% of Illinois adults with records that may want to apply to the university.
On October 24th, 2018, YES APPLY ILLINOIS! staged a protest outside University Hall at UIC to voice their concerns about the humiliating and discouraging effects of these questions on potential applicants with conviction histories. With graduation caps and a giant welcome mat, the assembly of students and staff proclaimed that all students were welcome to join the public university and urged authorities such as Chancellor Michael Amiridis as well as the University's President and Vice President to support their cause. The group believes that, for a public institution that prides itself on diversity and providing underrepresented students with access to education and opportunity, UIC seems to be failing its mission by including invasive questions on its applications that only exacerbate the effects of existing racial discrimination in the American justice system. The coalition also believes that the policy requiring students to report complete conviction histories may disproportionately hurt students from disadvantaged communities and underrepresented groups where disciplinary records are already more prevalent. Because of the importance of education for economic uplift and a reduction in disparities, YES APPLY ILLINOIS! believes that this invasive policy must be removed to avoid recidivism and ensure that all students receive equal educational opportunities, regardless of their records.
William Vavrin, an Honors College student and one of the undergraduate leaders of YES APPLY ILLINOIS!, stated that the group's next steps after the protest include trying to set up a meeting with the university's Board of Trustees, continuing to meet with legislators, presenting at the UIC Impact and Research Day (an event that gives UIC students the opportunity to showcase their leadership and engagement), potentially meeting Chicago's mayoral candidates, and lobbying for a bill that would prevent all public universities from asking questions about conviction records unless required by the state or federal government. The bill passed the Illinois House last spring but is yet to pass through the Senate. When asked why there was little response from the university to the protest, Vavrin argued that the university was more concerned about "reputational risk" and campus safety than welcoming all deserving students. Vavrin pointedly asked, "Why can't we follow the research as a research-one university?", referring to the lack of evidence that these disciplinary history questions actually reduce campus offenses.
Vavrin also stated that while the group is trying to move towards student advocacy and community support, this advocacy is not being supported by the university. After the protest, the group was able to secure a meeting with the Associate Chancellor and Vice Provost for Diversity, Amalia Pallares. However, in all of their previous attempts at communication they were either ignored or treated unprofessionally. Vavrin recalled a meeting intended to reach a compromise through collective bargaining with the university last summer. However, officials, including the Chancellor, were not present because they dismissed the matter as a university system issue outside of their responsibility. In the face of these challenges, Vavrin remained convinced that YES APPLY ILLINOIS! could be successful because a similar objective has been achieved at UIC's graduate school.  
After seeing graduate students with records make positive contributions to the university, Vavrin asserted that the university needs and wants all incredible students willing to work hard, including those with records. Despite the setbacks the group has faced, Vavrin ended the interview with a smile, confident that YES APPLY ILLINOIS! is on the right track towards meeting its goals and giving all students a fair chance at education.