Brains and Brawn: The Life of a Student-Athlete
Brains and Brawn: The Life of a Student-Athlete Heading link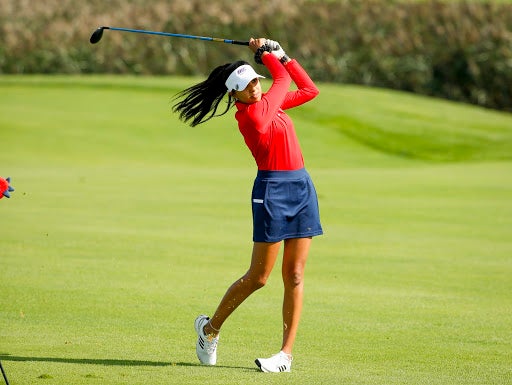 This fall, I had the pleasure of interviewing Honors College student Shivani Majmudar, a student athlete on the pre-medicine track, and learning  more about one of the many accomplished female athletes on campus. Shivani got her start at golf at a very young age. For a grand total of 12 years, Shivani has dedicated her time to playing golf. "My dad is a really big golfer," she explained, "so that's kind of how I got into it when I was younger. I would go to the driving range with him and then just hit balls . . . our way of bonding." It seems that, for Shivani, golfing has always been a large part of her life and will continue to be so.
Though Shivani has been playing golf for so many years, she did not start competing until she was in the 7th grade. She played in organized tournaments outside of school during 7th grade, and after entering high school, decided to join the school golf team. Shivani's favorite part of competitive golfing is training together, "We would all go compete together. It ended up becoming a community of friends who would push each other to be better. But, also, it was a social thing too. We got to know each other."
Going on to college, Shivani was not ready to give up golf, so she decided to continue competing. After receiving an offer of scholarship from the University of Illinois at Chicago (UIC) to play golf as well as admission into the Guaranteed Professional Program Admissions (GPPA) program in medicine and the Honors College, Shivani chose to attend UIC. One thing that Shivani stressed during our interview is how supportive the staff at UIC have been in encouraging her and helping her to continue playing competitive golf throughout her college career. In fact, it was the main reason she chose to go to UIC: "My academic advisors, both on the golf side and on the program side, were really encouraging of me being able to do both. So that was a huge reason why I picked UIC." It is always refreshing to see how supportive and welcoming the UIC Honors College is to incoming students.
Shivani's inspiration to enter the medical field were her parents, who are an ophthalmologist and an allergist. Watching her parents take care of patients and seeing the relationships that they established with them, made her want to pursue medicine. For Shivani, her parents are "a big inspiration… and where [her] interest in medicine stems from."
One aspect of healthcare that Shivani emphasized during our interview, especially considering her minor in public policy, is how she wants to have an active role in public health advocacy and the making of public policy. She believes that doctors need to take a greater role in the lives of the people they care for because they have a duty to the whole of society. "It's important for a doctor to realize not only the biology and chemistry… of diseases and how that might be implicated in sick patients, but also the macro elements that affect health. Like economic aspects to care and social determinants of health."
To close out the interview, I asked Shivani about any advice that she would give to other students who might be struggling as student athletes. Shivani suggests that at first college may seem incredibly hard, particularly when juggling school and whatever sport you choose to play, but it can get better. You may feel a lot of pressure at first, in competition, but take everything with a grain of salt. You can always change and get better.
"I think that freshmen year is a time for change in a lot of different contexts. You're in a new school, a new environment, you're not living at home anymore, and you're meeting a lot of new people, so there are a lot of stressors that you don't even realize. And then, on top of that, division 1 athletics can be stressful as well. You put a lot of time into practice and that's a lot of pressure. Don't automatically reduce yourself to being at that skill level because there are so many other factors that are going on in your life that can contribute." I think that this is good advice for any UIC student to apply to their lives, but it is particularly resonant for those who are athletes with commitments to both their schoolwork and their sport.
Modified on January 17, 2020