UIC senior lecturer Dr. Margena Christian is selected for the 2022-2023 OpEd Project Public Voices Fellowship
By Fiona Lashmet
Dr. Margena Christian teaches at UIC and the Honors College and is a founding faculty member of the Professional Writing minor. She has been selected for the 2022-2023 OpEd Project Public Voices Fellowship, a prestigious year-long program designed to increase the impact of underrepresented thinkers from top institutions. In addition to teaching, she has been a writer and editor for JET and EBONY magazine. She was recently interviewed by AP on the upcoming film Till for her work alongside John H. Johnson, the pioneering founder of the Johnson Publishing Company who published the images of Emmett Till's mutilated body that sparked nationwide outrage. Dr. Christian also covered the 2005 reopening of the case for JET. She is pictured here with a painting of Emmett Till by former EBONY art director Raymond A. Thomas.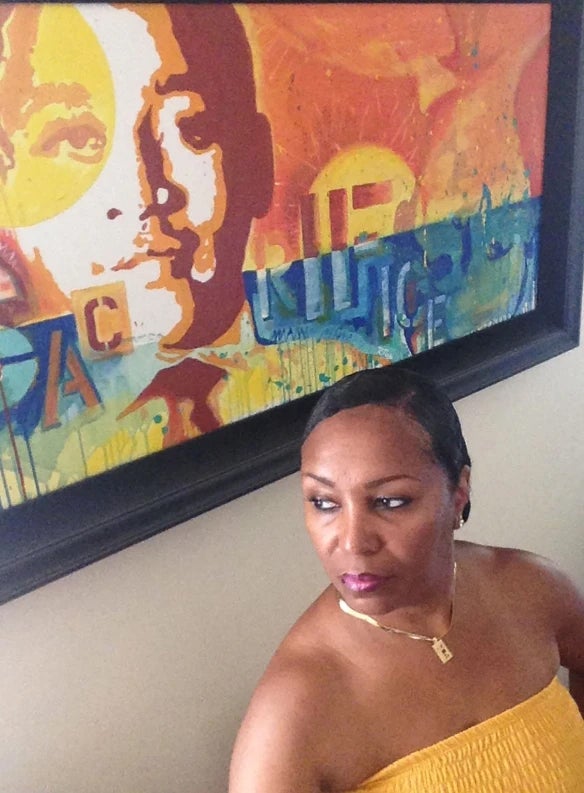 You've published several books and have been a senior editor and senior writer with EBONY magazine. Who or what initially inspired you to become a writer and have a career in media?
For as long as I can remember, I had an interest in becoming a writer because I loved to read. As a high school sophomore, I was introduced to the St. Louis Minority Journalism Workshop, founded by veteran reporter George E. Curry. Being in this workshop that was facilitated by top journalists in print, radio, and TV changed my life, because Curry championed the Black press and he served as my mentor. Known as the "dean of Black press columnists," Curry was a former editor of Emerge magazine and an Editor in Chief of the National Newspaper Publishers Association News Service. He was also among the first African Americans hired at Sports Illustrated.
What does it mean to you to be selected for the OpEd Project Public Voices Fellowship?
I worked as a professional journalist and was nationally published at both EBONY and JET magazines, so I was honored to be selected for the OpEd Project Public Voices Fellowship. It is typically reserved for tenured professors, but this year, for the first time in the University of Illinois System history, I am the first non-tenure track faculty to be accepted. It is an honor to represent the English department and Professional Writing minor where I am a founding faculty member. Being selected also means that I can see to it that my knowledge is of value to ensure my ideas serve to shape the greater public conversation taking place in the media, because it has the power to build, bridge, or break down better understandings about marginalized groups.
The OpEd Project Public Voices Fellowship aims to accelerate the impact of social justice thought leaders from underrepresented backgrounds. In your experience, what does it mean to be a thought leader?
Being a thought leader is to become a way maker. This position amplifies one's voice and allows one to speak on behalf of those who are marginalized, misunderstood, excluded, and ignored.
How do you believe programs such as this will create change in today's cultural landscape?
The OpEd Public Voices Fellowship will create change in today's cultural landscape by opening closed doors. Education is the key. Historically the gatekeepers to knowledge and those with public voices work to systemically silence BIPOC and women. Thanks to programs such as this, things can start to shift.
In addition to being an author, editor, and writer, you've also taught courses here at UIC on writing and media, as well as developing the professional writing concentration. What is your thought process for designing courses for UIC and the Honors College?
In designing courses at UIC for the English department's Professional Writing minor and with courses about the African American Media in the Honors College, my thought process allows me to be intentional about offering curriculum that teach and touch through real-world experiences. In designing the Honors College courses, I draw from my research interests with the role of the media with African Americans. Learning about theory and best practices are critical in the classroom; however, I want students to understand how this is applicable outside of the classroom. I want students to understand how to negotiate and deal with the world, which I believe is our never-ending classroom.
If you could impart one lesson to all of your students, what would it be?
I would tell each of my students to keep going no matter what obstacles may come their way. Trust the process and one day it'll all make sense.